Rihanna Admits She's Loving Her 'Thicc' Butt & Hips: 'I Hope I Don't Lose' Them In The Gym
Rihanna knows she's hot! In a recent interview with 'British Vogue', the singer admitted that she's confidently embracing her full body and isn't looking forward to losing the extra weight in certain areas when she starts working out again.
Rihanna, 30, isn't letting body shamers ruin her days and in fact, she absolutely loves her full-figured body! The talented singer is the cover girl for the Sept. 2018 issue of British Vogue and in a candid interview with the publication, she openly talked about her love for her appearance and how she hopes working out again won't completely take away her famous curves. When asked why she thinks she's one of the top women that other women want to look like, Rihanna was a bit modest. "Oh, you're asking the wrong person," she said. "Maybe it's because I'm 'thicc' now. I don't know. I'm about to get back into the gym and stuff, and I hope I don't lose my butt or my hips or all of my thighs. I'll lose some but not all. And I think of my boobs, like, 'Imma lose everything, everything goes!'"
Although RiRi is happy with her body, she admitted that having a thicker frame can also cause her to gain weight in less appealing areas. "But, you know, it comes with a price," she explained. "You want to have a butt, then you have a gut." That can definitely be true! Rihanna's used to being both praised and criticized for her bodacious bod so it's great that she can come to her own opinions about how she does and doesn't want to look!
In addition to body talk, Rihanna, who's been involved in a year-long relationship with Hassan Jameel, discussed dating and gave some friendly advice about guys. "I think a lot of people meet people and then they're dating the idea of what the person could become, and that person never shows up and then they're just mad disappointed," she said. "A person can always get better, they can always get worse, but you've got to be fine with what you met them as."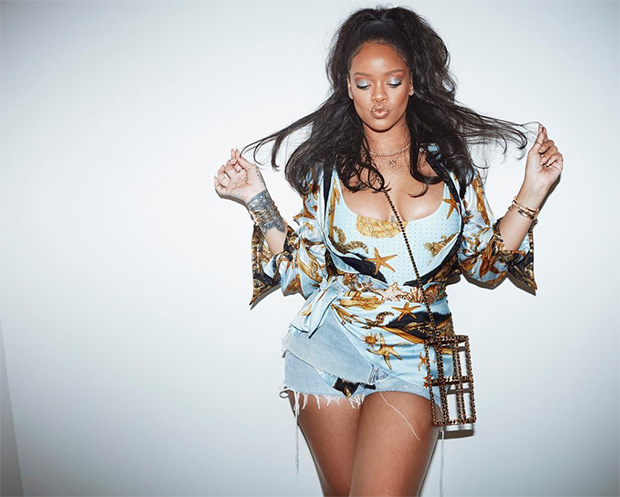 Rihanna's cover issue of British Vogue hits newsstands on Aug. 3.