Jennifer Lopez Puts Insane Abs On Display While Rocking A Sports Bra On NYC Streets — New Pics
Strong is sexy! J-Lo showed off her tremendously toned stomach in just a bra and leggings while in New York on August 1 — see the sexy new pics below!
Jennifer Lopez just turned 49 and she looks better than ever! She was flaunting her flat abs in New York City on August 1, wearing the Anaconda Barefoot Leggings and an orange sports bra from Niyama Sol. That leggings brand is one of her favorites — she's been wearing a ton of their colorful printed designs lately! Jennifer exited her car in bright white sneakers, aviator sunglasses and her hair up in a ponytail. She carried her stuff in a large black bag. It's pretty humid in NYC, so we're not faulting her for striping down in the hot weather! Plus, if we had a stomach like J-Lo, we would give up shirts completely.
Jennifer always looks amazing in workout gear, and she isn't afraid to show off her look with sexy gym selfies! See her hottest athleisure looks in the gallery attached above. She just celebrated her birthday on an island with boyfriend Alex Rodriguez and her family. She showed off her crazy toned body in a black and white string bikini on her beach vacation, while holding a bottle of champagne! She has a lot to celebrate!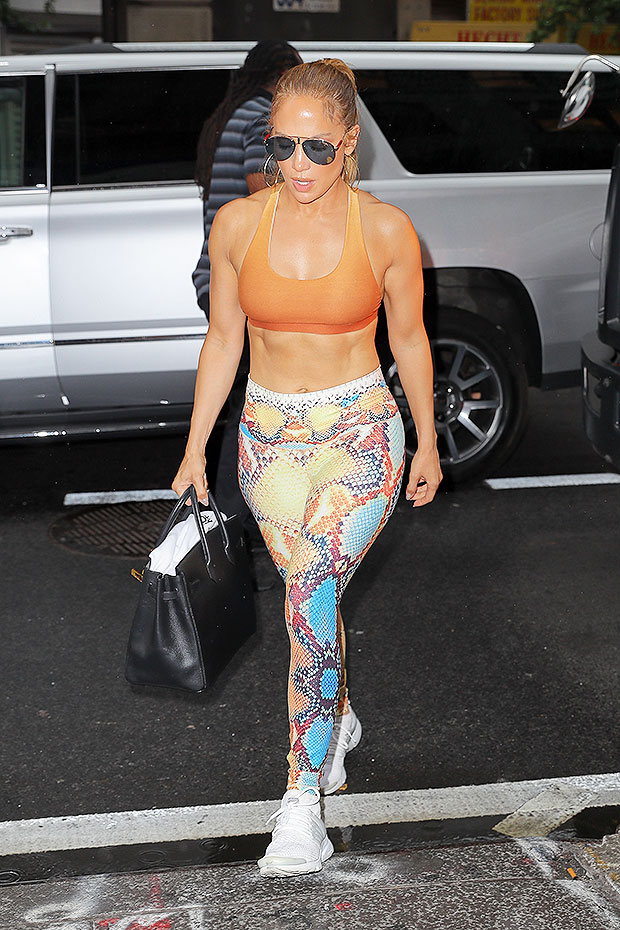 Later this month, at the 2018 MTV Video Music Awards, Jennifer will perform and be awarded with the prestigeous Michael Jackson Video Vanguard Award. She hasn't performed at the VMAs since 2001, so it's been a long time coming, and we can't to hear a medley of her most famous hits! The show will air live from New York City on August 20.