Gigi Hadid & Rita Ora Wear Same $9,000 Tom Ford Gown — Who Wore It Better?
Rita Ora wore a yellow Tom Ford gown with beaded sleeves at the Fragrance Foundation Awards on June 12 — the same dress Gigi Hadid modeled on the runway! See pics of the two ladies below!
I can't remember what I had for breakfast but I can remember a dress Gigi Hadid wore for 2 minutes 9 months ago. I knew that dress that Rita Ora wore at the Fragrance Foundation Awards (see more of the best dressed stars in attendance here) in New York City on June 12 looked familiar! It's because Gigi modeled the look (while rocking a faux bob, too) in pink on the TOM FORD runway back in September 2017 during New York Fashion Week. The TOM FORD Ruched Bodice Gown with Beaded Sleeves is $8,990.00 at Neiman Marcus. But don't worry, there is free shipping ;). Scroll down to see the side by side.
Rita showed off her newly dyed hair, though instead of orange, it looked pink, and was pulled back tightly into a spiky bun. It fact, hairstylist Brent Lawler added more pieces. He wrote on Instagram, "RITA ORA ..snatched and wearing hand dyed pieces in pink, purple, lavender and red." Robert Sesnek did her makeup, which was flawless. She rocked a perfect cat eye, bold brows and gorgeous pink lips.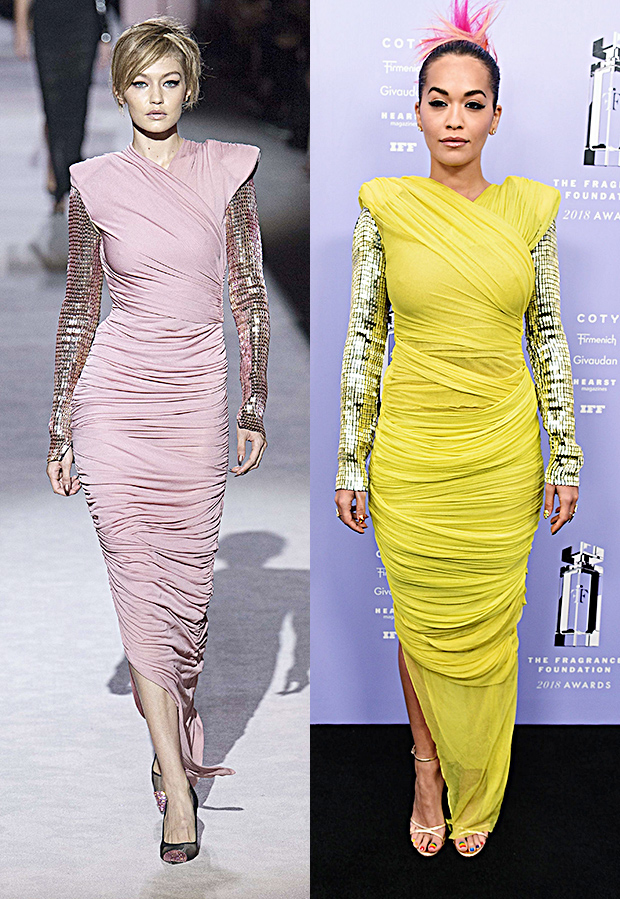 Kendall Jenner just wore a striped Ralph Lauren dress that model Joan Smalls rocked on the runway in Ralph's show during NYFW in February 2018. It's so fun seeing our favorite models wearing these amazing looks on the runway, and then seeing them on stars a few months later!