Lilliya Scarlett: 5 Things To Know About Woman Getting Handsy With Shawn Mendes In His New Video
No, those hands in Shawn Mendes' 'Nervous' video don't belong to Hailey Baldwin. She's Lilliya Scarlett! Learn more about the artist!
1. Those are her hands feeling up Shawn Mendes in the "Nervous" music video. Is Lilliya Scarlett the luckiest girl in the world? Maybe! The 17-year-old artist and model is the mystery woman featured in Shawn's new music video. Though you can't see her face in the video, she's still the star. During the clip, Shawn is sitting on a stool, trying to play the guitar, but a woman behind him has her arms wrapped around him. As the video progresses, she gets handsier and bolder, rubbing his face and ruffling his hair. Shawn can barely keep it together, he's laughing so hard. Seriously; this video is adorable — watch it above!
2. She's a successful artist in Los Angeles.
Lilliya's artwork is beautiful! She's just 17, but Lilliya is so gifted. Check her
Instagram
, and you can see some of her remarkable works of monsters and other disturbing scenes. She tends to go for watercolors, and they're all so cool — especially the scenes she's painted on clothing. She had her first solo exhibition in September 2017 at Chainlink Gallery in LA when she was just 17!
3. She's an up-and-coming model. This girl is also totally beautiful. Makeup artist Robin Black described her as a "young Brigitte Bardot," one "of the fresh faced ingenues of the late 1950's – 1960's." She said that her skin is so good that covering up with foundation is "a crime"!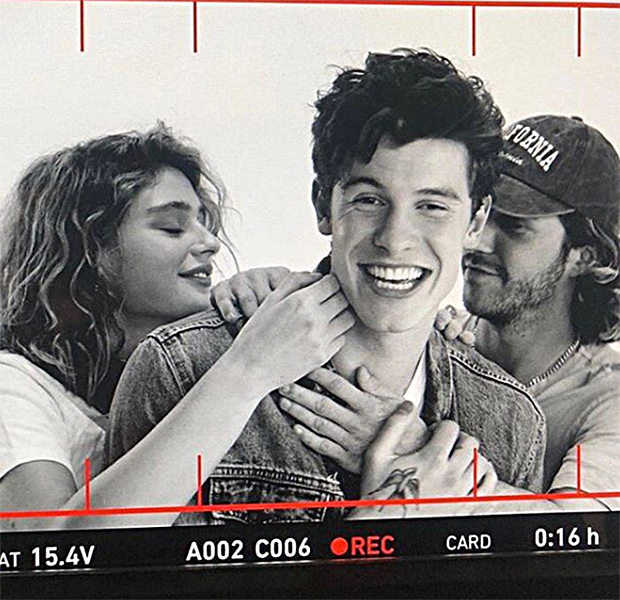 4. BUT she's not a cam girl. It says so in her Instagram bio. Her account is full of her beautiful modeling shots, so she doesn't want people to make the mistake that she's just doing this for the internet points!
5. She inspired Jaguar Bones to write music. Josh Beech from the London band Jaguar Bones said in an April interview that he was inspired to write their single "Over My Dead" after taking a pic of Lilliya! "Musically, we finished 'Over My Dead' a few months ago but it wasn't until a recent photograph I took of local LA artist Lilliya Scarlett, that we felt inspired enough to finish the lyrics and melody of the song," he told CLASH. 'That photo has now become the artwork for the single. I'm excited for people to hear 'Over My Dead'. It's probably the most vibey, down-tempo track I've been a part of writing."