Jennifer Lopez just rocked Valentino in New York City, wearing a sheer striped skirt and tiny black ruffled skirt on May 9. She looked flawless showing off her long legs! That casual look was sexy but still perfect for daytime. Vanessa Hudgens wore an adorable black and white polka dot ruffled skirt and yellow crop top while vacationing in Cuba. Ruffles are the perfect fun and flirty detail to add to any outfit!
Of course, if you want a more formal look, like for prom or a wedding, take some inspo from Selena Gomez at the Met Gala! On May 7 in New York, she wore a gorgeous Coach gown that was drop dead gorgeous. See more celebrities like Meghan Markle and Karlie Kloss wearing ruffles in the gallery, PLUS see over 30 options of ruffled shoes, dresses,and skirts you can wear this spring!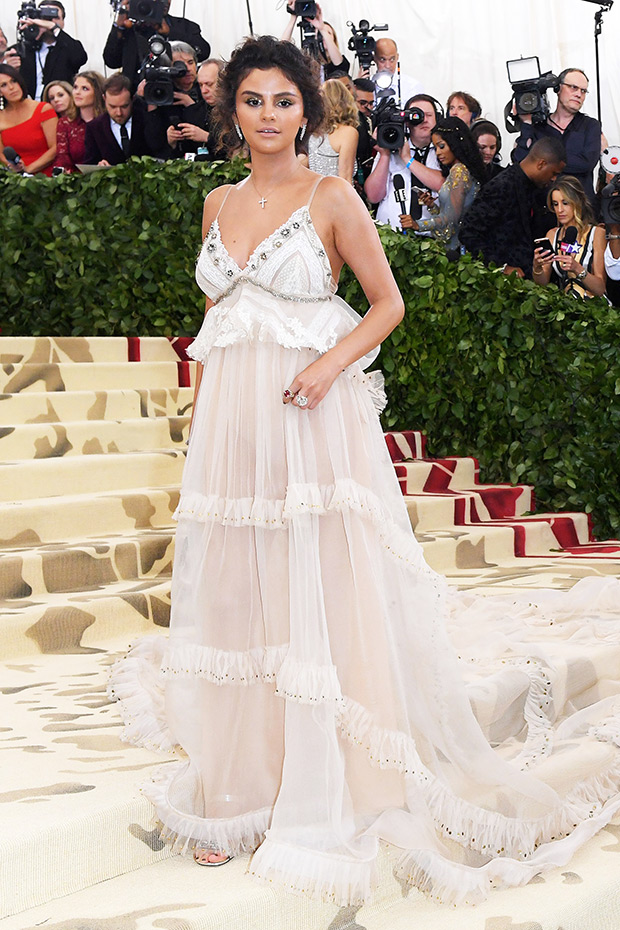 Ruffles can be in your face or more subtle, depending on your personal style or your mood that day! I love ruffles as a playful, sexy embellishment to a dress — Lily Pulitizer has a stunning, bright wrap dress I can't wait to wear all summer. Shoshanna has the cutest ruffled bikinis, and Ramy Brook has an adorable ruffed skirt. There are so many ways to rock ruffles — see our favorite pieces in the gallery attached above!
Click to Subscribe to Get Our Free HollywoodLife Daily Newsletter

to get the hottest celeb news.