Kylie Jenner & Travis Scott's Awkward Run-In With Tyga At Coachella Party — What Happened
Kylie Jenner and Travis Scott attended the exact same Coachella party as Tyga! We have the details of what went down between the exes.
Kylie Jenner and Travis Scott left Stormi Webster at home for a fun night out in the desert together. The couple attended the TAO x Revolve — Desert Nights party presented by Palms Casino Resport and Puma in Palm Springs, Calif. on April 13, but they weren't the only famous party goers. The lip-kit mogul's former flame Tyga was also at the shindig, and we heard what went down between them all.
"It was inevitable that Tyga and Kylie were going to cross paths at some point, and both of them were prepared for it. They didn't interact at all, they didn't acknowledge each other, there wasn't even an exchange of smiles. It was more a case of studiously ignoring each other," a source close to the Kardashian-Jenner family tells HollywoodLife EXCLUSIVELY.
Our insider noted that the "Rack City" rapper was a bit concerned about how Kylie's baby daddy would handle the situation, but it seemed to turn out fine. "Tyga was worried that Travis might start some beef, but in reality he couldn't care less about him," our source added. "As far as Travis is concerned, Tyga is firmly in Kylie's past, he's nobody to her now and he's certainly not a threat to their relationship."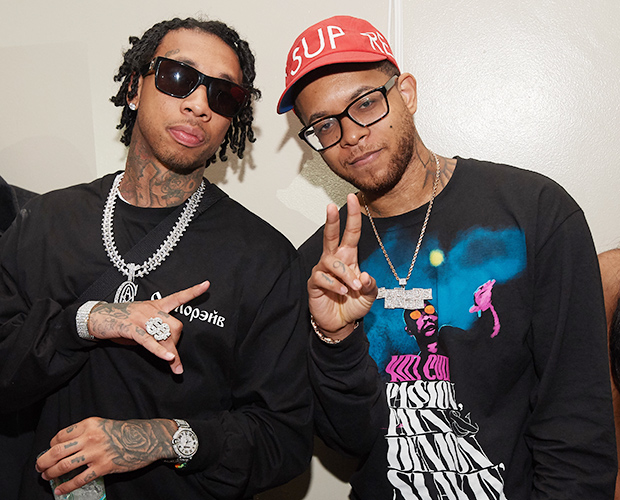 It certainly looked like there was nothing to worry about since Tyga also
brew up some romance rumors
with
Iggy Azalea
at the same event. The two rappers arrived hand in hand, and hung out in front of the DJ booth together for most of the night. Another sign that everything's chill between the trio? Spinning that night was DJ
Chase B
, who happens to be Travis' personal DJ and close friend. He probably would've kicked Tyga out of there if Travis wanted it!
Tyga and Iggy were also photographed together with rapper Won-G and Kourtney Kardashian's boyfriend Younes Bendjima! The cosmetics mogul also spent time with Younes at the party as well as her sister, her bestie Jordyn Woods, Chance the Rapper, Nicki Minaj and Quavo, among others. The whole crew, later including Kylie and Travis, hung out at Nicki and Quavo's VIP table and closed down the party!