Nicki Minaj Steps Out Looking Gorgeous Amidst Wild Pregnancy Rumors: Can You See A Baby Bump?
As fans continue to speculate whether or not Nicki Minaj is pregnant, she was photographed in lace see-through pants! Do you think she's expecting? Examine the pics.
Nicki Minaj, 35, sparked pregnancy rumors on April 4 after she was seen in public for the first time in four months. The suspicious part is that the rapper appeared to be trying to cover her stomach with an oversized black and white handbag as she arrived at LAX for a flight. Now in Paris, Nicki stepped out just one day later on April 5, and, sorry to break it to fans, but she does NOT look pregnant — at least in the photos! Click here to see pics of Nicki Minaj's dating history.
In the pics, Nicki can be seen rocking black lace pants that are semi-sheer, and even still, we can't locate a hint of a bump. The artist also has on a black and white striped sweater, oversized shades, and black lace-up booties. Unlike her airport outing, Nicki doesn't seem to be hiding anything, as her large bag hangs directly at her side, and her outfit is in no way baggy.
Recently, Nicki has been quieter than usual on social media, as she hasn't tweeted once since December 2017 and has only posted twice this year in total — both last week and they were sponsored posts for her deal with Tidal and Mercedes-Benz. A possible explanation for her silence is the fact she recently split from boyfriend Nas, 44, after dating for seven months. The pair reportedly "fizzled out," according to Us Weekly. "They were never in the same place at the same time, so it was hard to move their relationship forward," the mag's insider revealed.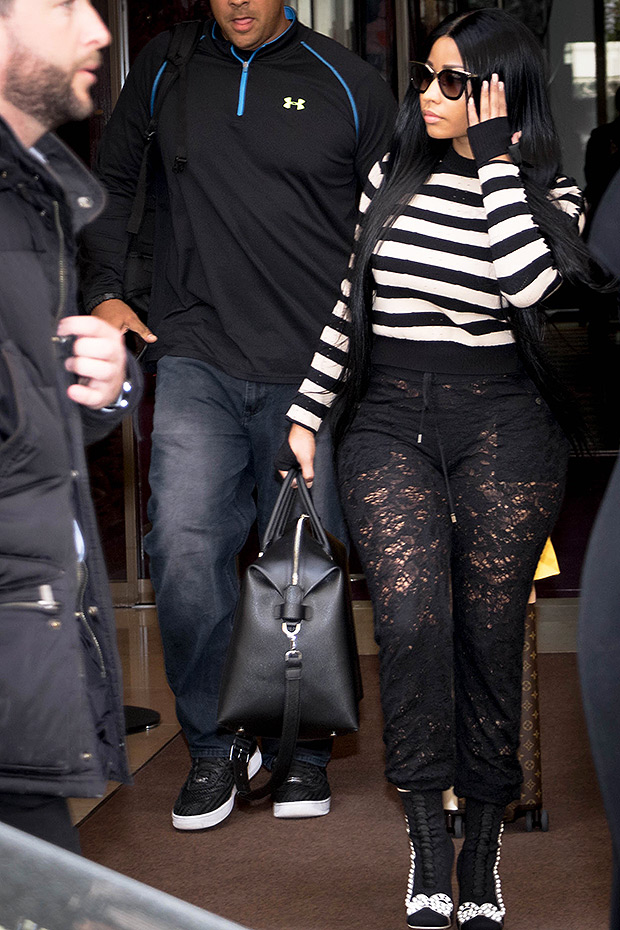 Nicki has been facing pregnancy rumors for months now, but in November she tried to put an end to the speculation by tweeting that babies were FAR from a priority. "Y'all want the album or the baby? Cuz ch- y'all ain't bout to get both," she wrote on Nov. 26. A fan responded saying, "The baby can wait. we been waiting for this album TOO long," and it looks like Nicki has been working towards that exact goal.