Arming Teachers With Guns Is Ludicrous — Let's Pass Gun Safety Laws Instead
President & Editor-in-Chief
Today, March 14, tens of thousands of school and university students will leave classes at 10 am in the ENOUGH National School Walkout to demand tighter gun control laws, NOT guns in classrooms. Why they are right!
"We need to disarm dangerous people, not arm teachers." That's what Shannon Watts, founder of Moms Demand Action for Gun Sense In America, tweeted on March 13, the day before the student walkout, and she is absolutely right. Donald Trump's plan to train and arm teachers in an attempt to prevent school shootings, is just plain nuts and incredibly dangerous for students. The country's teacher's unions, security guards plus police departments, and even military veterans uniformly oppose this hair-brained plan.
Think about it — how could a teacher armed with a pistol possibly take out a shooter in military gear, branding an AR-15 assault rifle? Highly trained police officers only hit their targets 18% of the time, a 2008 study from RAND Corporation found. Now, add into this, the mass panic, chaos and confusion in school hallways and classrooms packed with kids. Any armed teacher would be more likely to kill additional students or teachers, or get killed themselves! "Cops & soldiers literally get paid to do this and most of them can't shoot accurately under stress," Jay Kirell, an Afghanistan combat veteran tweeted in response to Donald Trump's plan. Trump actually tweeted that mass shooters are attracted to schools because they are "mandated to be gun-free zones. "Violence and danger are given an open invitation to enter," he added. All of which is music to the NRA's ears.
However, guess how the Parkland shooting survivors feel about this proposal? Not much. "Can you imagine the mass chaos and hysteria that would be caused? Imagine all the police officers trying to figure out which gunshots are friendly, and which are not. They don't have time for that, they need to make decisions and we don't need any more guns in these scenarios," blasted Marjory Stoneman Douglas High School student David Hogg, who famously posted videos of students hiding in his classroom while gunshots rang through the halls outside.
You know who else thinks this is a terrible idea? Shannon Watts, who founded Moms Demand Action for Gun Sense In America almost 6 years ago. A stay-at-home mom of five, Watts was devastated by the massacre of 20 children and 8 educators at Sandy Hook Elementary School, and she wanted to fight back against the epidemic of gun violence. She slammed Trump and the NRA for exploiting the Parkland tragedy to push legislation that gets guns into the hands of more people. "The NRA wants to get guns into schools and onto college campuses because it normalizes guns for the next generation. They want the next generation to see having guns as normal," she told HollywoodLife.com in an exclusive interview. She also pointed out that, the bottom line, the NRA wants to sell more guns and that Trump's plan to arm teachers will do just that. "The safety of Americans be damned. They just want to generate sales and profits," she slammed. Arming 3.2 million teachers in America would land $100 million more in the coffers of gun manufacturers. "The NRA's agenda is guns for anyone, everywhere, and anytime, no questions asked."
And Donald Trump, instead of "listening" to the pleas of the Parkland shooting survivors and parents of children who died, to strengthen background checks and ban assault weapons, instead has promoted the NRA agenda of arming teachers. Not surprising considering that the organization gave $30 million to his presidential campaign — more than any other campaign they've ever contributed to. In other words, he's in their pocket. That's why Shannon and her organization are giving full support to the Parkland students, who are organizing the March For Our Lives on Saturday, March 24 in Washington, DC, and Shannon will be there. She's fed up with gun lobbyists trying to ramp up fear that any gun safety legislation will take away people's Second Amendment right to own guns.
How about "mothers who are afraid their children are going to be taken away?" she pointed out. Isn't that a far more worthy and widespread concern?
Ah, yeah! Watt's and her organization, which now has chapters in 50 states, have thankfully had many great successes in killing "bad" NRA bills, and helped pass gun safety laws. They've closed the loophole in 8 states which allowed people to buy guns online without a background check, have helped pass legislation in 25 states which enables police to remove guns from people who have restraining orders or have been convicted of domestic abuse, they've stopped 'Stand Your Ground' laws, in Wyoming and Utah, and they've also stopped laws that would have allowed anyone to carry a gun without a permit in Virginia, South Dakota and Alabama. And those are just a few of their successes. Now, since the Parkland massacre, they've been flooded with two million new members and 200,000 more volunteers.
So, Donald Trump, Watts and her members are winning the support of mothers, students and more across America, and your proposal to arm teachers is losing. Tomorrow students will walk out of school for 17 minutes to honor each of the 17 murdered students and teachers from Marjory Stoneman Douglas High School in Parkland, Florida. To find out about a March For Our Lives march near you on March 24, click here. To learn more about Moms Demand Action for Gun Sense in America and to join, click here.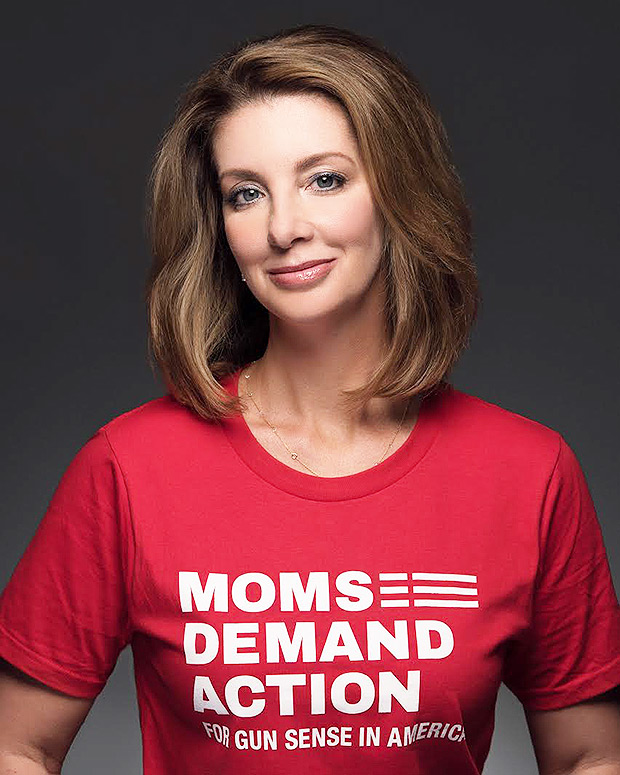 Let's remember that we have a choice between what's more important — our children or our guns? I choose our children. So does Shannon Watts. So do the Parkland students. Who do you choose?