Tiffany Trump, 24, daughter of President Donald J. Trump, wore black and white to watch her father speak at his first State of the Union address in Washington, D.C. on January 30. Her dress was white on the top, with clean lines and a deep V-neck. Her waist was belted with a large black velvet belt, and on the bottom, she rocked a black pencil skirt. Her blonde hair was pulled into a ponytail. Her eyes were lined in black and she kept her lips neutral. Her carried a light pink Gucci clutch and wore some delicate gold bracelets on her left hand. Was she sending a message by wearing black and white? The Democratic party, specifically the women, staged a #BlackOut, wearing all black just like celebrities did at the Golden Globe Awards, to bring attention to the #TimesUp and #MeToo movements.
On the opposite end of the spectrum, First Lady Melania Trump wore a white Dior pantsuit with a Dolce & Gabbana shirt. White is traditionally a color worn by suffragettes, and Hillary Clinton wore a white pantsuit when she accepted the Presidential nomination at the Democratic National Convention in July 2016. Hillary also wore white to Trump's inauguration in January 2017. Was Tiffany wearing black and white as a subtle nod to these causes?
Ivanka Trump steered clear of black and white — she wore a $2,690 short-sleeved, plaid Oscar de la Renta dress, with black patent leather high heels. She hosted a dinner at her house before the address with Tiffany, and brother Eric Trump.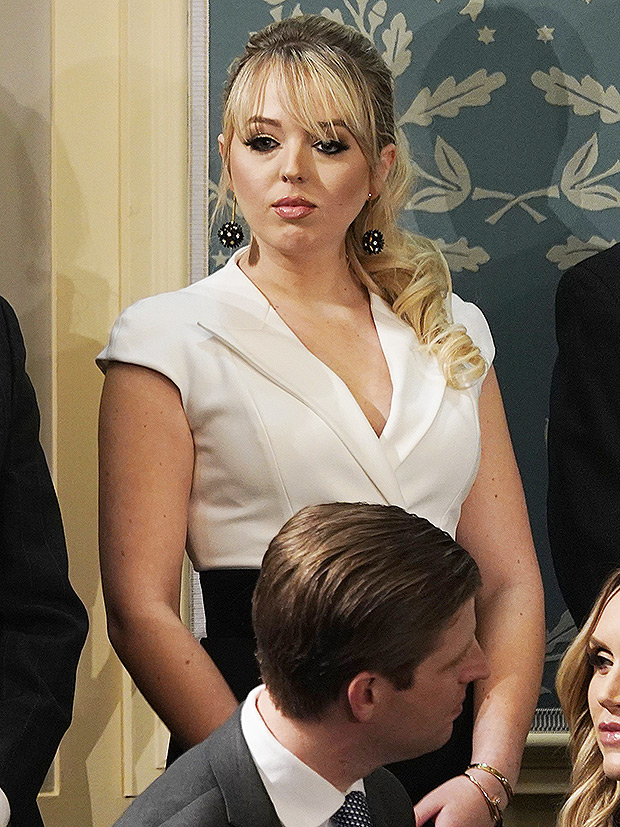 HollywoodLifers, did you love Tiffany Trump's dress at the State of the Union?