Triple H hasn't competed at a WWE major event since WrestleMania 33. After more than half-a-year away, "The Game" will join four other Raw Superstars to battle a handful of SmackDown Live!'s finest in an epic brand vs. brand, Survivor Series-style match. This could be another highlight of Triple H's career, but what is his favorite match of all time? "You know, it's hard. I get asked that a lot," Triple H (born Paul Levesque, 48) EXCLUSIVELY tells HollywoodLife.com. "It's hard for me to pick a particular match. I've been really lucky in my career almost from the get go to work with some really talented and amazing performers."
"If I had to pick one just kind of special moment, it would be the 'End of an Era' match [at WrestleMania 28 in 2012] between myself and The Undertaker in a Hell in the Cell, with Shawn [Michaels] as the special guest referee," Triple H tells HollywoodLife.com, "just because it was so meaningful to the end of our careers. And not that anybody's career ended there necessarily, but it truly was in some ways the end of an era for us and it was very meaningful.
"There's a moment at the end of the match," Triple H says, "where Shawn, myself and Taker are standing at the top of the stage, looking back over the crowd. That moment is just etched into my brain and will hopefully never leave me. It was a very meaningful [match] to all three of us and a very emotional day."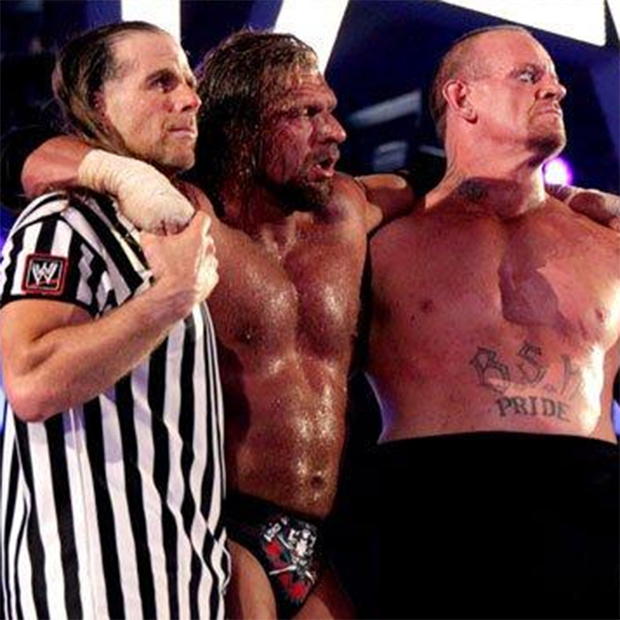 As Triple H pointed out during the interview, the WWE Superstar he had a chance to work with are a "who's who in the Hall of Fame." From Mick Foley, Shawn Michaels, Chris Jericho, The Rock and "Stone Cold" Steve Austin, "The Game" has locked up with some titans of the ring. As the current WWE Executive Vice President of Talent, Live Events and Creative, Triple H has overseen the next generation of Superstars in NXT, the WWE's developmental division.
"I think NXT changed the business," says Triple H, "because if you look at the main roster today, 80% of that talent on Raw and SmackDown right now came out of NXT. I think it's fundamentally changed the way we look at our company from a global standpoint, whether that's finding talent in the UK, whether that's finding talent in India or South America or in Spain. It's finding talent globally. It's training them in a way like never before. It's bringing them up through a system that gets them more ready than they've ever been which is NXT. It's changed everything."
The WWE will certainly never be the same after Survivor Series. Triple H will stand with Kurt Angle, Samoa Joe, Finn Balor and Braun Strowman as Team Raw. They'll battle Triple H's legit brother in law, Shane McMahon, who leads Team SmackDown, consisting of Randy Orton, Bobby Roode, Shinsuke Nakamura and John Cena. The event takes place on Nov. 19, 2017 at 7pm ET / 4pm ET on the WWE Network.
Were you surprised by Triple H's pick, HollywoodLifers?