Did Reese Witherspoon & Sam Smith Just Diss Taylor Swift? See The Shocking Evidence
Taylor Swift and Sam Smith's albums came out in the same week, possibly leading to some shady Twitter activity on Sam's part…and by Reese Witherspoon, too! Were the two stars dissing Tay?
Taylor Swift, 27, broke the Internet with the release of her new album Reputation, but not everyone in Hollywood thinks she's so great, as we're finding out! It all started when Twitter user @DonnyV_35 tweeted, "When someone thinks Taylor Swift is a better artist, singer, and song writer than Sam Smith," along with a hilarious GIF (see below) on Nov. 11. Nothing too crazy, right?
Well, Sam, 25, reportedly "liked" the tweet, as BuzzFeed says. That's when the world collectively clutched their metaphorical pearls, because how dare he? Sam, whom Taylor has called a "friend for life," has since unliked the tweet, but you can take a look a the screengrab below to see the fishy biz. See more photos of Sam Smith here.
But wait: there's more. When another fan tweeted a complaint about Taylor's Saturday Night Live performance on Nov. 10, Reese Witherspoon, 41, threw it a "like" (again, per BuzzFeed.) Reese, why?! Have you already forgotten the private Taylor Swift concert you received from your pal on your 40th birthday?? Apparently.
Anyway, Sam has since retweeted a suggestion that his initial shady "like" was simply a mistake. "Maybe it was an accident," a Swiftie tweeted on Nov. 11. "Sam would never do such a thing," they added, and Sam tweeted an emoji pointing to the tweet. Phew!
See the Sam Smith shade: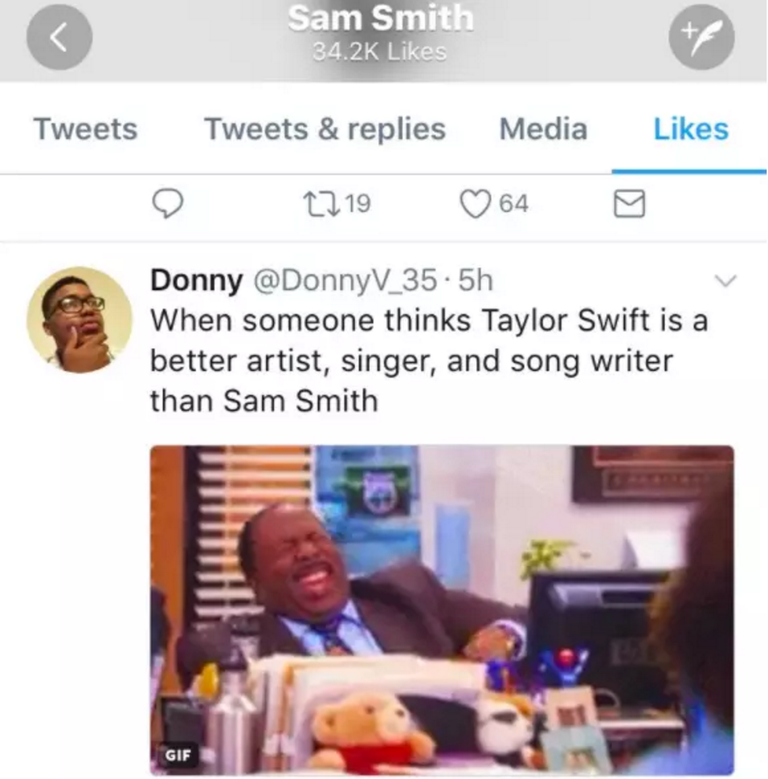 And now the Reese shade, which she has yet to explain: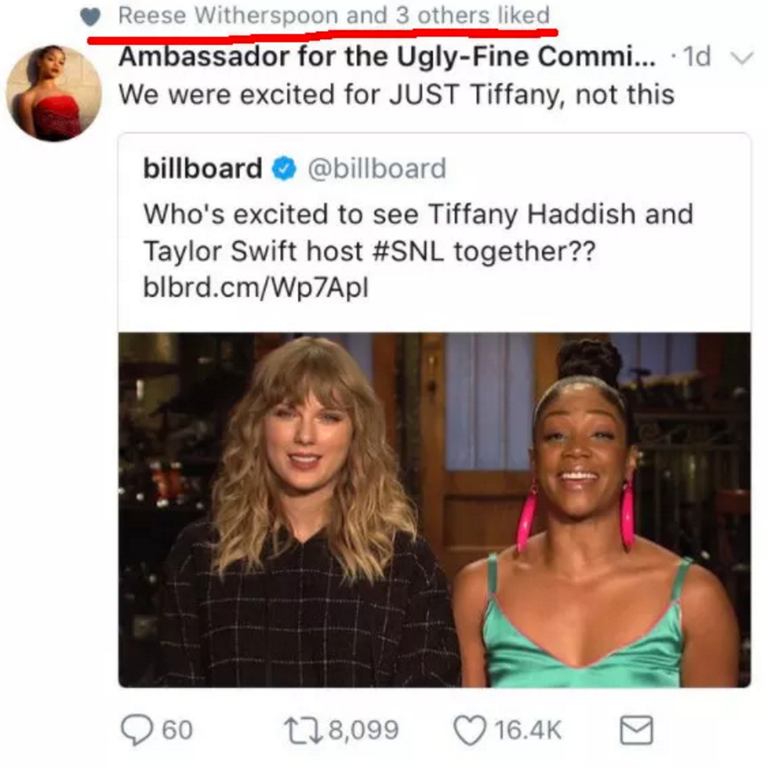 HollywoodLifers, do you think Sam and Reese were throwing shade at Taylor? Or has this all been blown way out of proportion?