You're doing amazing, sweetie! "after getting called disgusting last night, i successfully dropped 200lbs!! (Before and after pics)," @Mandy_Rose99, aka Miranda, tweeted on November 12 (UPDATE: The tweet has since been deleted). Her first photo is a sweet couple pic that appears to be at a dressy sorority event, featuring Miranda and a handsome guy. It's unclear if he's her boyfriend, or just a date, but either way — he done messed up. The "after" photo is the same pic, with the guy cropped out. We literally spit out our coffee from laughing so hard at this tweet. See the pic below!
Whatever happened that night, it's only known that the date apparently called her "disgusting." The reason he dissed her remains a mystery, but maybe it's better that way. If not for his major fail, we wouldn't have gotten this epic tweet! We love that Miranda's so confident and recognizes that she shouldn't be around a man who has the audacity to call her names. That's verbal abuse, and it's not okay, no matter what happened at the party.
Miranda now joins the prestigious club of celebrities who shaded their exes on Twitter. The Weeknd, 27, just recently joined himself. Just after it was announced that he and Selena Gomez, 25, broke up, he tweeted, "dodging STRANGER THINGS spoilers is the hardest thing I've ever experienced." Damn! We get it; avoiding Stranger Things spoilers was also one of the most difficult challenges we've ever had to overcome. But tweeting this right after a very public breakup with your longtime girlfriend? That's cold! Miranda would be proud.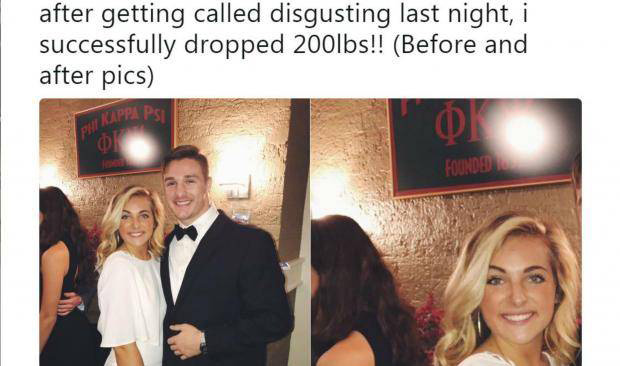 https://twitter.com/Mandy_Rose99/status/929729990517805056
HollywoodLifers, is this the best tweet ever y/n? Let us know what you think!