Kelly Ripa & Ryan Seacrest Slay As Taylor Swift's 'LWYMMD' Personas & More For Halloween
Deputy Editor of New York City
The morning show Halloween madness continued on 'Live With Kelly & Ryan' Oct. 31, with Kelly Ripa and Ryan Seacrest changing into a variety of epic costumes throughout their show. Check 'em out!
Kelly Ripa loves Halloween, and she masters the holiday each and every year on Live! This year, Ryan Seacrest was by her side for the first time on Halloween, and the pair totally hit it out of the park by debuting various looks during their one hour time slot. To kick things off, the talk show hosts made a pre-taped parody of Taylor Swift's "Look What You Made Me Do" video, dressing up as different versions of Tay from the video. Then, when the show officially started, they epically dressed as each other to come onstage, and even nailed one another's expressions, gestures and personalities.
In another pre-taped segment called Match Game of Thrones, Kelly and Ryan channeled GOT characters while playing the Match Game. LOL! Then, for their first live change, Kelly and Ryan took on Stranger Things, dressing as Eleven and Mike, respectively. During this part of the show, Andy Cohen came onstage for an interview, and he was dressed as Dustin from the hit Netflix show. Another pre-taped skit had the hosts take on a mixed parody of The Handmaid's Tale and Real Housewives before the next commercial break. Next up? Both hosts dressed as Wonder Woman from different decades. Epic! Kim Kardashian and Kylie Jenner also got the Kelly and Ryan treatment this year, in another pre-commercial parody with the Scott brothers. Then, the pair dressed as themselves from back in the 70s.
Every year, Kelly completely nails her pop culture-inspired Halloween get-ups, and it's great to see that Ryan is keeping up perfectly fine with her all-out ensembles. Last year, Kelly was hosting the show solo after Michael Strahan's departure, so she completely stole the show all by herself. Her 2016 costumes included Peter Pan, Hamilton, Donald Trump, Beyonce, Negan from The Walking Dead, and Harley Quinn from Suicide Squad — and that's just to name a few! This year, she and Ryan teased up their Game of Thrones look nearly two weeks before Oct. 31, but it was still just as awesome to see them in action.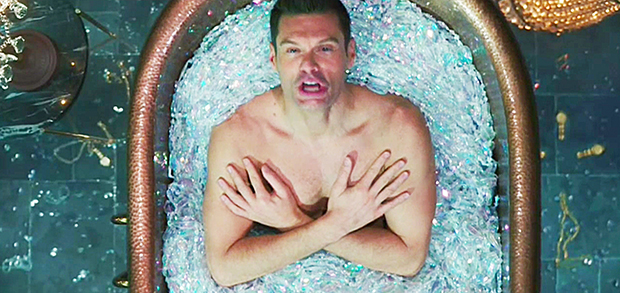 Click through the gallery above to check out Ryan and Kelly's Halloween costumes from this year, along with the looks from other morning show hosts on shows like GMA and Today.
HollywoodLifers, which of Kelly and Ryan's costumes was your fave? Did you like all their looks?