Alexander Skarsgard's Shocking Nerd Makeover Includes Massive Bald Head – Hunk No More
What did you do to yourself, Alexander Skarsgard? This is no Halloween costume – the 'True Blood' star revealed a startling new look, one that left the former hunk looking more like a suburban dad.
This may be the most frightening terror seen this Halloween. Alexander Skarsgard, 41, left his fans wondering if this was a cruel trick, because his brand new look isn't a treat. The man considered to be one of Hollywood's hottest hunks debuted his new look on Oct. 26, which has him…completely bald! While attending the Volez, Voguez, Voyagez – Louis Vuitton Exhibition Opening in New York City, Alex came out in a dapper suit – and not a single hair on the top of his head!
Suddenly, The Legend of Tarzan looked less like Lord Greystoke and more like Prince William, 35, (no offense, Prince William. Bald is beautiful!) What caused this makeunder? Was his gorgeous hair starting to thin and he decided to just cut to the chase? Well, before distraught fans start mourning over the loss of Alex's jaw-dropping locks, this is probably just him prepping for a part. Alex is currently shooting The Hummingbird Project, which according to Daily Mail is a movie about "a pair of high-frequency traders [who] go up against their old boss in an effort to make millions in a fiber-optic cable deal."
So, Big Little Lies fans can breathe a sigh of relief. Alex's hair will grow back. Of course, this didn't stop many from freaking out. What has Alexander Skarsgard done to his hair….what has he DONE??? ALEX NOOOOOO," tweeted user @RyanIsSoBomb, while @CRANESINTHESKY__ lost all function in her fingers. "WHY IS ALEX SKARSGARD BALD AGABBSBSBD." Can anyone else sum up the panic and dread over Alex's bald head so perfectly?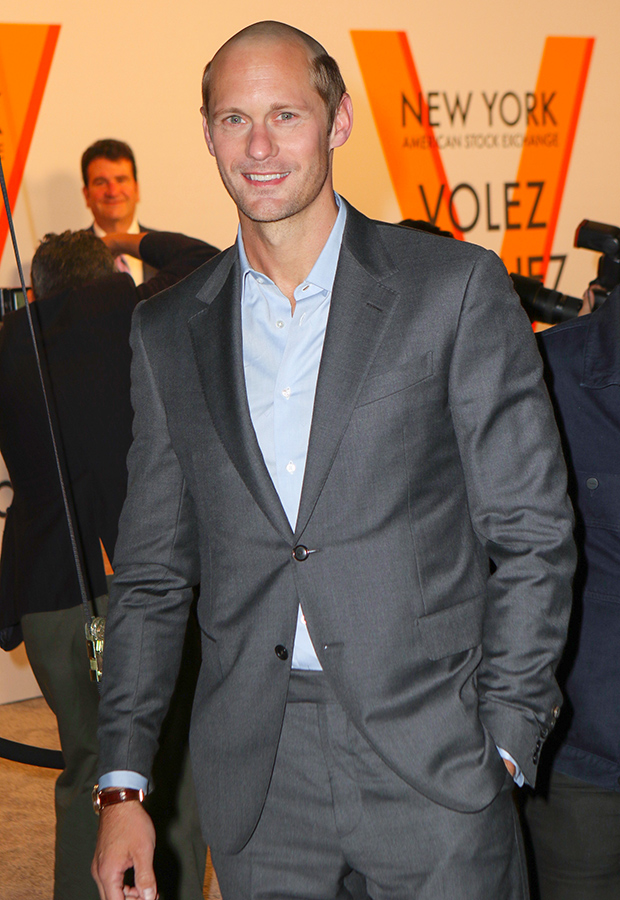 Until Alex's hair grows back, broken-hearted fans can binge-watch True Blood and think of happier hair days. After all, it's the perfect time – Halloween! – and Alex does happen to be one of the hottest Hollywood hunks to ever don a pair of fangs. Or, fans could appreciate how Alexander can make bald look somewhat sexy. You be you, Alex.
What do you think about Alex's new look, HollywoodLifers? Do you think it's a shocking departure? Do you think he looks fine? Does this make you excited to see his next movie?