Zooey Deschanel Reveals Struggles Of Being A Working Mom & How She Copes
Zooey Deschanel knows a thing or two about trying to raise a family while pursuing a fulfilling career. The star has two children under two and is about to start filming the final season of her hit show 'New Girl.' Whoa! Zooey told HollywoodLife.com EXCLUSIVELY how she keeps it all together.
Zooey Deschanel, 37, has been through her fair share of diapers over the past couple of years, so she knows exactly how important this basic necessity is. The mother of two hosted the Baby2Baby Baby Carnival presented by Huggies in L.A. in honor of National Diaper Need Awareness Week on Sept. 25. The New Girl star — who is raising daughter Elsie, 2, and son Charlie, 4 months, with husband Jacob Pechenik — spoke to HollywoodLife.com EXCLUSIVELY about the struggles of being a working mom and how big a part diapers play in alleviating your worries. Luckily, Zooey is fortunate enough to not have to worry about affording diapers, but she told us 1 in 3 families just can't cover the cost. Click here to see pics of Zooey.
"It's huge once you have kids," Zooey told us. "You don't realize how much you need those diapers, you'll go through say eight diapers a day. And if you need to go to work, you need to leave your baby at a day care or something, or with a family member, you need to have diapers for them to be able to leave them at day care. And if you don't have those diapers then you can't go to work. That's a big thing. If you think somebody can't go to work because they didn't have diapers. That's just basic. That's a basic need. And it may not be glamorous, but it's actually the most useful thing that you could provide for somebody."
Zooey, who was so proud to accept a donation from Huggies of 2.5 million diapers for families in need on behalf of Baby2Baby, talked about her own experiences dealing with working in showbiz and still trying to be the best possible parent to her little ones. "Try to spend as much time as possible with them," Zooey told us, while giving advice to other working moms on how to cope. "Like, sometimes you're really tired and you come home from work and, you know, you just want to go to bed. But just trying to spend as much time as possible with them, one on one without you know your cell phone buzzing and your television on. It's nice to be able to read books. I read books to my daughter, and now Charlie too. But he's so little, right now he likes looking at the little baby face books. But that time is such wonderful bonding time and you see what they enjoy. And those are really rewarding experiences."
Speaking of quality time, Zooey shared an adorable experience she had with her daughter recently during the kids first trip to Disneyland. "I didn't realize how scary Pirates of the Caribbean was until I took my 2 year old on it!" Zooey said. "I mean, it's fun for me, but she like freaked out. She loved it so much. It was so cute."
Zooey has previously spoken out about how amazing it is that she was able to take Elsie to set with her while working on New Girl and will now do the same with Charlie. While the She & Him singer said the final season of the hit FOX show doesn't have a premiere date yet, they are about to start filming. Of course, her feelings on wrapping up the program are bittersweet. "You know, it's gonna be like senior year, which was fun," she said. "So I'm assuming that it will be fun. I'm excited about it." Zooey confessed she doesn't know whether everyone will have a happy ending yet, but we're really hoping they do!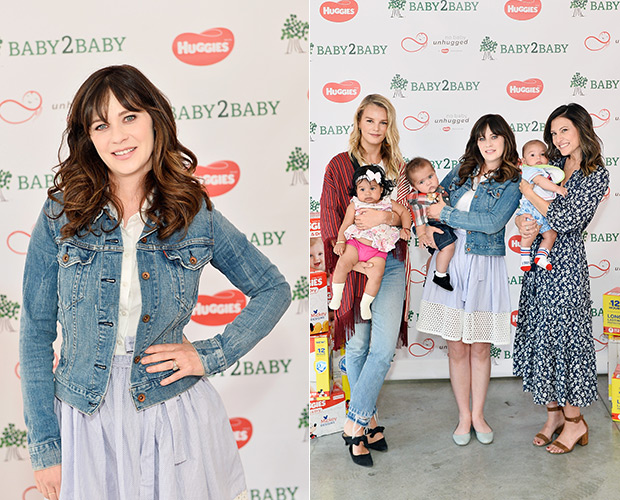 HollywoodLifers, what do you think of Zooey's advice about being a working mom? Let us know below!