Miley Cyrus Shows Off In Sheer Pants At iHeartRadio Festival
Miley Cyrus stole the show at the 2017 iHeartRadio Music Festival before she even took the stage when she showed up in a see-through crop top and matching pants. The focal point of her look was her totally visible lacy red underwear!
Miley Cyrus, 24, "hearted" a little more than radio on Sept. 23. The "Malibu" singer rolled up to the 2017 iHeartRadio Music Festival in Las Vegas yesterday in a see-through outfit that just screamed love! Miley rocked sheer pants and a matching crop top that were covered in little red hearts. However, the most eye-catching part of the ensemble was the lacy red underwear she showed off underneath her see-through pants. Miley sure knows how to stay on theme, not to mention tease.
Miley is always one to go a little wild with her style, and this event was no exception. She flaunted her flat tummy and belly button piercing in her cute crop top. Then she threw on a long sheer coat and gloves to make things just a little crazier, but still totally Miley. She was decked out in even more hearts in the jewelry department, rocking some rings, bangles and earrings. To top of the sexy, quirky look, Miley strapped on a pair of red stilettos and matching lipstick. The look perfectly complemented the blonde bombshells figure and personality!
The "Wrecking Ball" singer would go on to change into a sequined mini dress before performing. But we have to say we kinda like this one better. It's fun and sexy and crazy all at the same time. So totally Miley! She was far from the only performer to take the stage for the festival, following up amazing sets by Harry Styles and The Weeknd, who performed the day before!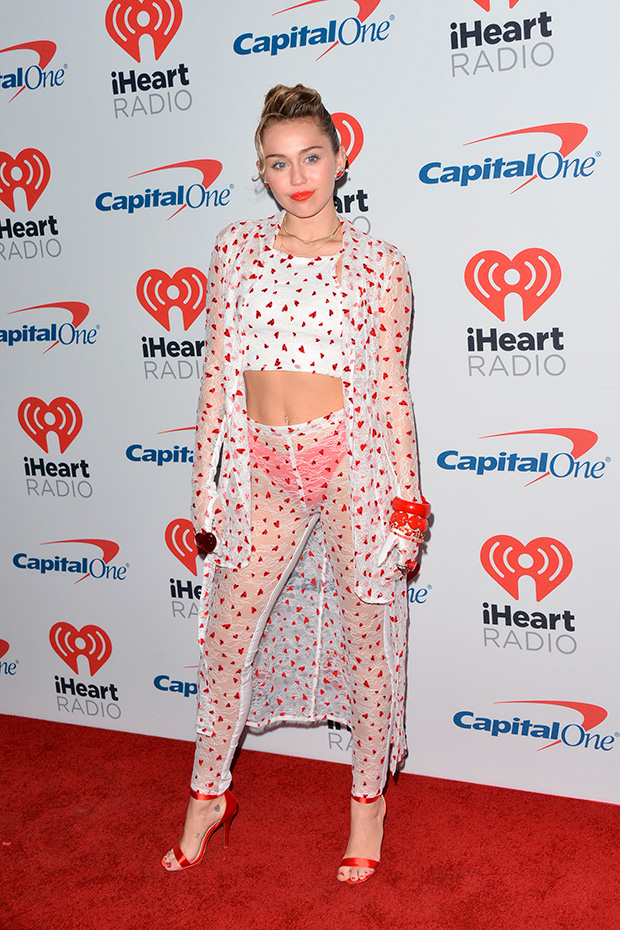 HollywoodLifers, what do you think of the sexy outfit Miley chose to wear to the iHeartRadio Music Festival? Let us know below!