Cameron Esposito & Rhea Butcher Tease Back To Back Comedy Tour & Future Of 'Take My Wife'
Here, Cameron Esposito and Rhea Butcher talk podcasts, their upcoming join comedy tour, the wonders of Blue Apron, and perhaps most importantly, their TV show 'Take My Wife,' whose fate is still in limbo.
When I mistook Rhea Butcher for her wife Cameron Esposito upon calling them up for this interview, I was instantly ashamed, because I consider myself a superfan of both. Hilariously enough, they didn't let me forget it. Below is an only slightly condensed transcript of our conversation.
Okay, let's talk about the Back To Back tour! You'll both be performing. What can we expect?
Cameron: This is Cameron. You can expect two wives doing standup on stage together simultaneously, then individually.
Rhea, can you confirm or deny that?
Rhea: Oh, yeah. I confirm and deny it. I can do both.
Do you guys have backstage rituals?
Cameron: This is Cameron. There's a quick fight about what we both did that annoyed each other during the day. Rhea, what about you?
Rhea: This is Rhea. Usually, my ritual is trying to find a space as far away from Cameron as possible before the show. I am also giving her the gift of being away from me.
So selfless. What's the weirdest or most unique venue you've done a gig at?
Cameron: I used to be a circus ringmaster. [Laughs] Whaddya got, Rhe?
Rhea: Cruise ship is one I never thought I'd do.
You both do the Put Your Hands Together podcast, and now, Cameron, you have the Queery podcast. I have to ask: why are you so into podcasts?
Cameron: HA! The reason we're so into podcasts is the reason any content creator should be into them: it's cheap. It's super expensive to make television and you have to have a lot of people, money and time involved. Which is fine! But there's a barrier to entry of someone else deciding it has to make money. With podcasting, you just need the mic on your phone and whatever subject you think is interesting. So I love the way podcasting has created this democratized version of the entertainment industry where underrepresented voices have a shot.
Put Your Hands Together is an opportunity to stand on stage together and have that heard nationwide. With Queery, it's an opportunity for people to hear conversations between queer people.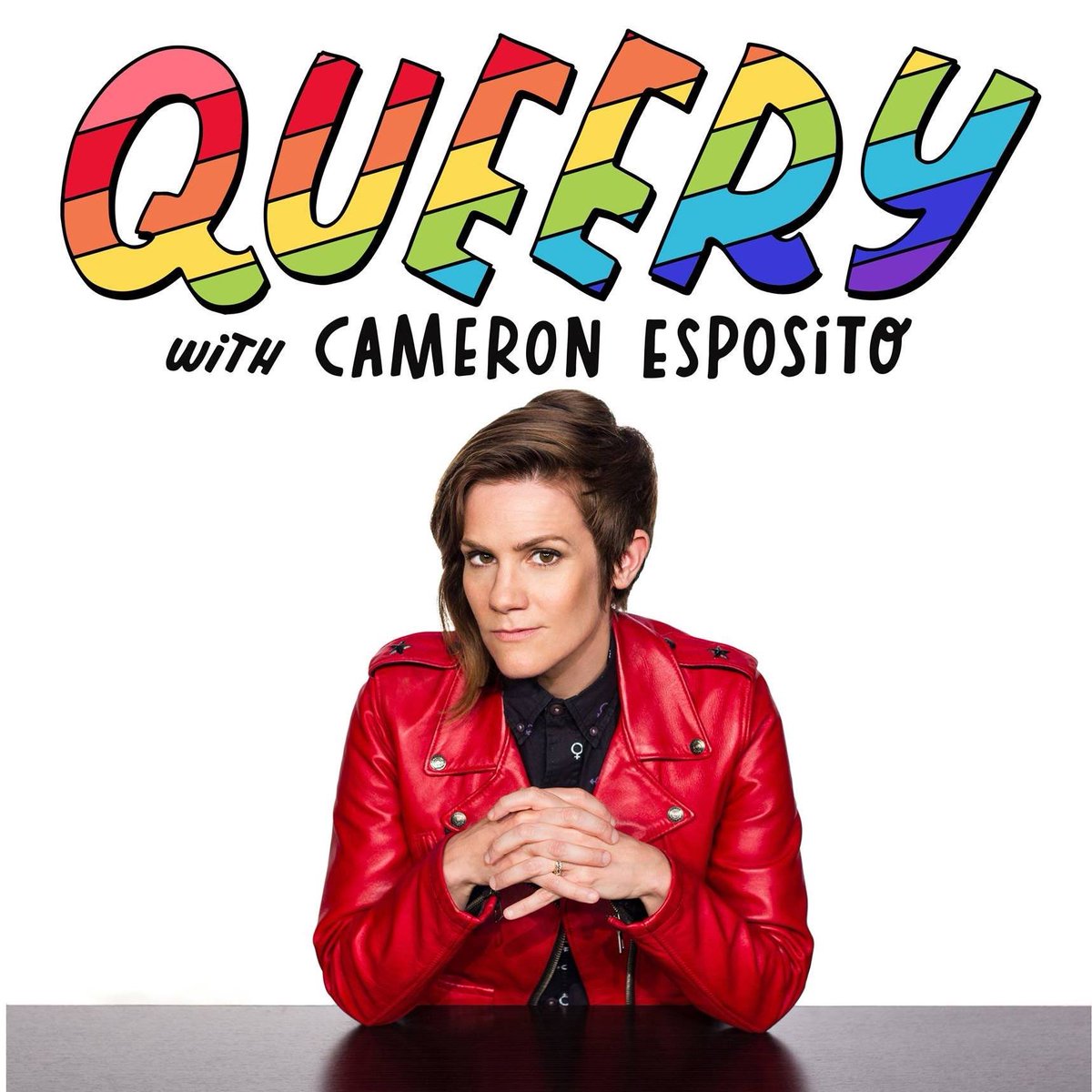 Can you tease any Queery guests?
Cameron: Coming up in the next month, I have Evan Rachel Wood, Tegan Quin and Sara Quin of the band Tegan and Sara — separately, because they're separate people — and Rebecca Sugar, who created Steven Universe. For previous guests, I had Jill Soloway, and I even somehow secured an interview with Rhea Butcher.
Gotta keep the nepotism alive. Who's still on the wishlist?
Cameron: RuPaul. It's going to happen.
I also want to discuss Take My Wife, the future of which we've had no word on yet. [Ed. note: you can catch up on the Seeso shutdown here.] It needs a home…
Cameron: This is Cameron and we agree. It needs a home.
I canceled my Seeso subscription after I watched the first season, so I feel somewhat responsible for their demise.
Rhea: Oh, it's not your fault.
Cameron: I don't know. They did name you.
For those who don't know, can you explain what you accomplished with Take My Wife?
Cameron: We hired folks who were from traditionally underrepresented viewpoints, partially because we believe in changing the numbers in Hollywood, and partially because it represents our real life. The cast of season 2 is 54% out, LGBT actors, and that's pretty spot-on to who are friends are. We have half straight friends, and half queer friends. Just showing that on television gave people who are usually relegated to the side character [a platform]. We were trying to center experiences that aren't usually centered on TV. It's important to us to work on real diversity in crew and in cast, and we were able to achieve that.
Rhea: We also wanted to make a gay, queer, LGBTQ show that comes beyond the coming-out story, not that it's not valuable or needed. But it's primarily what's in entertainment, or what is often talked-about, so we wanted to make something that goes a step beyond that. We're out and this is what our lives are like.
I also appreciate that everybody lives.
Rhea: We appreciated that, too. At this point, I'm hoping that the show lives…
I feel like you guys are sitting on this treasure trove of a whole second season that needs to be seen.
Rhea: Yeah, we literally are. We just want people to see it. It's the hard work of us and a lot of people, so for that reason alone — people got up at 3 in the morning some days to help us make a show. They were dedicated and had smiles on their faces. This is something I haven't really said, and I'm glad I'm thinking of it now. A lot of people we hired on our show continually said, "Hey, I'm really proud to be a part of this. It's really cool." It's easy to wash over LGBTQ people these days and be like, "Yeah, it's so much better now," well, sure, but we do get brushed aside. I really don't want all the people I worked with for two years, basically, for all of their hard work to disappear.
Hopefully the next time we speak, things will be different. [UPDATE 3/2018: Seasons 1 and 2 of Take My Wife are now on iTunes!] On to a few random questions…
Cameron: Let's get light!
Cameron, what's your favorite food?
Cameron: I don't know. Rhea, what's my favorite food?
Rhea: It's random meals she makes from the Blue Aprons sitting in our kitchen. She's genius about it, too.
Cameron: You mean, like leftover Blue Apron ingredients that I combine to make one super Blue Apron?
Aren't they portioned out so you use all of the ingredients?
Cameron: But if you miss one of the meals, you get backed up, and the kitchen's full of too many Blue Aprons. You have to combine them for one mega-Blue Apron.
Rhea: You have like three zucchinis and a pepper and tomato paste. It's like, oh, shit, what do I do with this?
Fair. Rhea, what's your favorite shirt pattern?
Rhea: Cameron just yelled "buffalo check" without a pause. [Ed. note: see proof below.]
What's your ideal date night — and what happens on a realistic date night?
Cameron: I don't know. Straight-up, we go on good dates. In the last month, we've gone Go-karting, we played Skee-Ball, pinball, a baseball game, we've met friends for dinner. Wild stuff.
Rhea: We've discussed laser tag.
Cameron: Just think about what a kid in 5th grade wants to do for their birthday party.
What helps you be confident?
Rhea: Our dog Murph. He's got real positive vibes.
What's something you've been passionate lately outside of your work?
Rhea: Baseball. I am on a team.
Like a major league team? Are you secretly a famous athlete?
Rhea: No, I wish. Hopefully one day.
What about you, Cameron?
Cameron: Um…I forgot what the question was because I was thinking about Rhea being on the Dodgers.
Haha. We're talking about what you like to do when you're not working.
Cameron: Working out, honestly. Hiking, yoga. I'm starting to lift weights. I'm such a mental person, in my head all day, and it really helps me to connect with my body. I'm like a dog that needs to be walked. Murph will walk me sometimes.
If someone is new to you, what material should they listen to or watch first?
Rhea: This is Rhea. Check out my album Butcher.
Cameron: You can listen to my album, Same Sex Symbol.
Which one should we listen to first?
Cameron: Listen to them at the same time.
Rhea: Yeah, while watching "The Wizard of Oz."
What's your advice to humanity?
Cameron: My advice to humanity, from Cameron Esposito, is: find your Rhea.
Rhea: Okay. Well, that's adorable. I was going to say practice kindness. Actual real kindness with yourself and with others.
Get tickets to the Back To Back tour (which starts Sept. 21) here.