Josh & Anna Duggar Welcome 5th Child — 1st Baby Since Sex Scandal 2 Years Ago
There's another baby Duggar! Anna, Josh Duggar's wife, has given birth to the couple's 5th baby, which marks the 1st child the 2 have had since news of Josh's cheating/molestation broke in 2015. Click here to see the first pic of their new bundle of joy!
The oldest member of the Duggar clan, Josh Duggar, 29, is a dad — again! The shamed reality star, who molested five young girls when he was in his teens, and his wife Anna Duggar, 29, are the proud parents of five little ones after Anna gave birth to a baby boy, Mason Garrett, on Sept. 12, according to their family blog. The former reality couple already have sons Michael, 6, and Marcus, 4, as well as daughters Meredith Grace, 2, and Mackynzie, 7. We can only imagine how excited Josh's 19 siblings are about having a new little one in the fam! Click here to see pics of the Duggar family.
"We are so thankful and happy to announce the arrival of our new son, Mason Garrett Duggar," the blog post reads. "Both he and Anna are doing well. He arrived today without complication and we already adore him. The entire family is ecstatic over the arrival of another beautiful blessing. We want to thank everyone for your prayers, kind words and well wishes. We appreciate it much more than we could ever express. We pray God blesses each of you with an abundance of the kindness you've shown us."
News of Anna's pregnancy broke in March and was a huge surprise to fans, as it came just months after Josh was released from rehab following his completion of six months of treatment for sex addiction. For those who need a refresher, Josh was in therapy in the first place as a result of his sexual improprieties, which included molesting girls — including some of his sisters — when he was a teen, and using the affair-facilitating website Ashley Madison to try and cheat on his wife.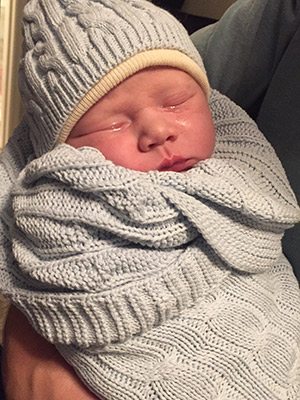 Given the circumstances surrounding their latest pregnancy, Josh and Anna, as well as the other Duggars, remained tight-lipped about their impending addition. But now that the infant has arrived, we're hoping to find out more about the precious newborn! One thing's for certain though, the cutie will have plenty of playmates growing up as they not only have four siblings, but a handful of cousins as well — including Henry Seewald, whom Jessa Duggar Seewald, 24, gave birth to in February, AND Samuel Dillard, whom Jill Duggar Dillard, 26, gave birth to in July. Congrats on a healthy baby, Josh and Anna!
Tell us, HollywoodLifers — are you surprised Anna and Josh had another baby after everything that's happened?