'Bachelor In Paradise' Finale Special: Where All Your Favorite Couples Stand Today
Senior Entertainment Editor
When a huge group of men and women who have hooked up get back together, there's going to be drama. So allow us to break down the 'Bachelor in Paradise' finale and reunion special.
Of course the reunion was packed with status updates, but that wasn't all it was. First, the finale in Mexico featured Chris Harrison giving the group two options: head home if you didn't make a connection or stay in Paradise for one final date (that can feature a fantasy suite) and leave as a couple.
Needless to say, for some it was an obvious yes. Taylor Nolan, 24, and Derek Peth, 31, obviously we're thrilled for more one-on-one time, and hadn't actually had sex before the fantasy suites. Then they went on to the reunion show to give us all what every Bachelor function needs: an engagement! They took their romance to the next level when he popped the question with a gorgeous Neil Lane ring and yes, they're planning their wedding!
But they weren't the only couple moving forward — Raven and Adam, and Lacey and Daniel also took that final date! So did they last? Here's an update on where the rest of the couples/triangles ended up:
Raven and Adam: still on
They decided to spend the night together, and it actually worked. They've actually been traveling all across the country together for the past two months and she's planning on moving her business to Dallas to move in with him. They told each other they loved each other — plus, her entire family was also at the finale, so she brought them out to meet him!
Lacey and Daniel: done
This odd couple told each other they were falling for each other before fantasy suites, and decided they were ready to be Facebook official. However, after spending the night together, she heard him telling producers he wouldn't be changing his Facebook status for her. Apparently they also had known each other and hooked up a year before the show, and had seen each other since. But basically, he wasn't ready to settle down, with her anyways.
Amanda and Robby: done
She actually chose against going to the fantasy suite on the finale, telling him she didn't think things would world in real life. They did briefly date when they got back home, but have since broken up; she said she felt like he wasn't ready for a relationship. The twins claimed he cheated, but he said he didn't — and Amanda said she believed him.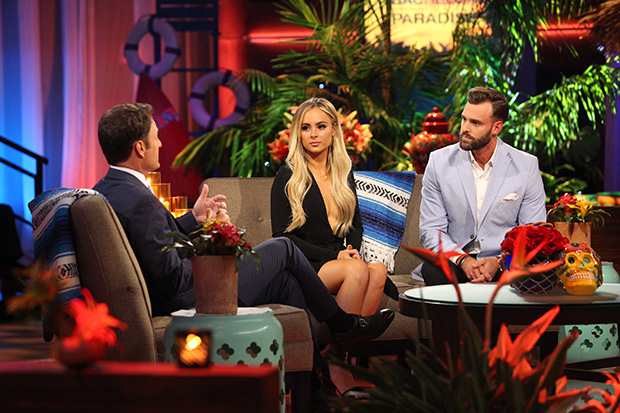 Dean / Danielle / Kristina: done, done, done
During the finale, Danielle was ready to make Dean her boyfriend. He blindsided her by saying he actually had regretted letting Kris go, and that he loved Kristina. (You can read more here!)
Diggy / Dominique / Jaimi: done
Diggy had asked Jaimi to go to the fantasy suite with him but ultimately, she said no because she didn't like how he handled things with Dominique.
Christen and Jack Stone: done
They didn't go to the fantasy suite and he wanted to keep dating… but she turned him down.
Danielle M. and Wells: haven't started
Regardless of being constantly on each other's social media, the two claim to be only friends.
The reunion also featured a specific reunion we'd been waiting for: DeMario Jackson, 30, and Corinne Olympios, 24, came face-to-face for the first time since they were both kicked out of Bachelor in Paradise and the show went on hiatus. Since they hadn't been allowed to communicate, it was an emotional reunion, but ultimately, they were friends.
HollywoodLifers, what was your favorite part of the finale?