Selena Gomez Looks Hotter Than Ever While Showing Off Thigh-Highs In BTS 'Fetish' Video
Selena Gomez has shared a new treat — a behind-the-scenes look at the making of her provocative 'Fetish' video! In the new clip Sel shows off for the cam in her yellow baby doll dress and pure white thigh-high stockings!
Selena Gomez, 25, is becoming a more amazing artist with each passing day! On Aug. 19, the songstress shared a new making-of for her "Fetish" music video on VEVO, and the behind-the-scenes look at her work is amazing! The young star — who just celebrated a milestone birthday — proves she truly is grown-up, as she takes charge while filming, but still has an adorable attitude. Click here to see pics of Selena's 25th birthday.
In the one-minute video we see a montage of The Weeknd's girlfriend walking around the set. She smiles at the camera, giggles, peeks out from behind a door, and skips along in the grass. At one point, our darling Sel lays on the ground and writhes around on the carpet, exposing her white, lace-trimmed thigh-high stockings underneath her yellow baby doll dress! If Selena was looking to show how far she has come with "Fetish," she succeeded in crushing everyone's expectations.
The actress is also seen putting on lipstick, playing with the camera, filming a scene in the rain, and enjoying the sun on set. It is a must-see video for any Selenator, or people who just truly appreciate artistic music videos, like "Fetish"! Selena and the music video's director, her dear friend Petra Collins, did an interview together for Dazed magazine about the bizarre video. "With the way I grew up, I always felt like there was something inside of me that hadn't been accessed," Selena told Petra. "I hadn't had the opportunity or confidence to find it. For so long I felt like I (wasn't able) to do something like this, not because I don't want to but because I lack that confidence." Clearly, Selena found her confidence, and it shows!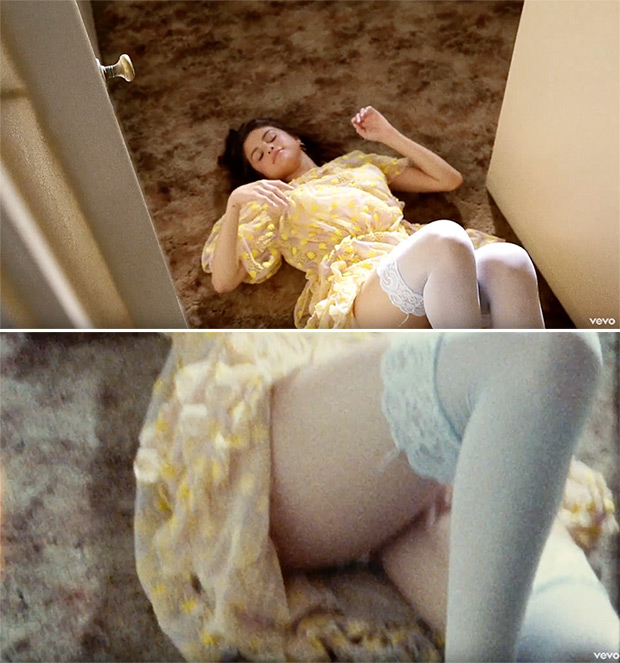 HollywoodLifers, what do you think of the epic behind-the-scenes video from "Fetish"? Let us know below!