Brad Pitt Looks Happy, Hunky & Ripped In Army Uniform On The Set Of 'Ad Astra'
Hey there, Brad Pitt. You're looking good! Though Brad's divorce from Angelina Jolie has certainly taken a toll, the Hollywood heartthrob was all smiles while on the set of his new movie.
While there hasn't really been a time when Brad Pitt, 53, hasn't looked gorgeous, he was looking pretty trim in a few behind-the-scenes snaps on the set of his film, Ad Astra. The War Machine actor posed in his U.S. Army uniform for a few shots with Instragram user @downttownmike.100. Well, Mike was certainly keeping it 100 in the picture's caption. "Chilling Down Here With Brad Pitt New Movie Coming Out Soon #BradPitt #MyJobBetterThanYours" Yes, Mike – your job is the coolest in the world. Nice picture, bro'.
From the looks of it, Brad has definitely gotten leaner and probably dropped any excess weight. Though it's easy to assume that his messy split from Angelina Jolie, 42, was the cause for this new bod, it turns out that the divorce wasn't the reason for him going back to the gym. Brad has decided he wanted to get back to a healthy and happy lifestyle, a source EXCLUSIVELY told HollywoodLife.com. "Brad has always been in good shape for all of his life, so it was easy to bounce back to the body he has now.
In addition to getting his body back in shape, in the year following Angelina's filing for divorce, Brad has focused on getting healthy mentally and emotionally. After coming so close to losing his family — Maddox, 15, Pax, 13, Zahara, 12, Shiloh, 11, and twins Knox and Vivienne, 9 – for good, Brad has gone through periods of self-reflection. Brad now realizes he has to be a good father for his kids, even as he and Angelina work out the details of their divorce.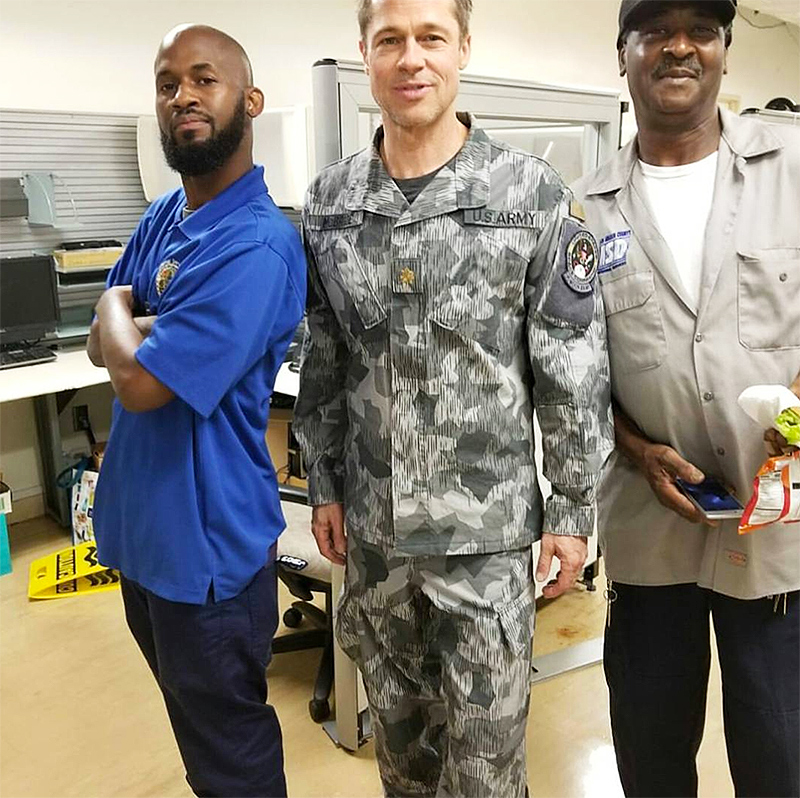 Brad Pitt's new movie is all about family. Ad Astra is a sci-fi flick that's about an Army Corps engineer's search across the galaxy for his missing father. Clearly, Brad doesn't get a chance to escape the reality of his divorce while filming this fantastical, fictional adventure. Perhaps that's why he was looking sad on the set on Aug. 14? Brad stepped out his trailer with a downcast look on his face. He was either getting into character for shooting an emotional scene, or perhaps the divorce negotiations were taking a toll? Either way, it's good to see Brad smile with "Downtown Mike" in these new shots.
Are you still sad that Brad and Angie broke up, HollywoodLifers?