'GoT': Is Catelyn Stark's Ghost Haunting Winterfell & Watching Arya & Sansa?
Daenerys Targaryen and her dragon were the stars of last week's 'Game of Thrones,' but fans have noticed a blink and you'll miss it moment in the episode that may actually overshadow Dany's battle. Click here to see what could be the ghost of Catelyn Stark at Winterfell!
When you make a promise to Catelyn Stark (Michelle Fairley), you best keep it — or she could come back to haunt you. Though Catelyn died in season 3 of Game of Thrones at the infamous Red Wedding, she may have made a cameo appearance on the Aug. 6 episode of season 7 — as a ghost. A fan pointed out that in the scene where Arya (Maisie Williams) and Brienne of Tarth (Gwendoline Christie) face off in an epic sword fight, soon after the young Stark daughter finally returns home to Winterfell to her sister Sansa (Sophie Turner) and brother Bran (Isaac Hempstead Wright), a haunting figure resembling Catelyn moves behind them! Click here to see our predictions for GoT season 7.
"You swore to serve both my mother's daughters," Arya says to Brienne, and it's on the word "mother" that Redditor GrennsGal points out, you can see "a woman in a long green dress w/ long auburn wavy hair with her head down walking past the background gate, resembling Cat." Whoa. Check out the clip above, and the still from the scene below, and you will see what they're talking about! It's hard to call that moment just a coincidence (as everything said and done on Game of Thrones is significant), especially because of how much Cate wanted to make sure that Brienne would protect her daughters. Could it be she has come back to watch them herself?
In George R.R. Martin's A Song of Ice and Fire books, Catelyn does die at the Red Wedding, but unlike in the show, she comes back as a zombie named Lady Stoneheart. Cate's goal is to get revenge on the Freys for her families demise, a task her daughter accomplished for her at the very beginning of this season. So, some viewers think that because Lady Stoneheart wasn't included in GoT, this little scene could just be a really awesome Easter egg for fans who have also read the books.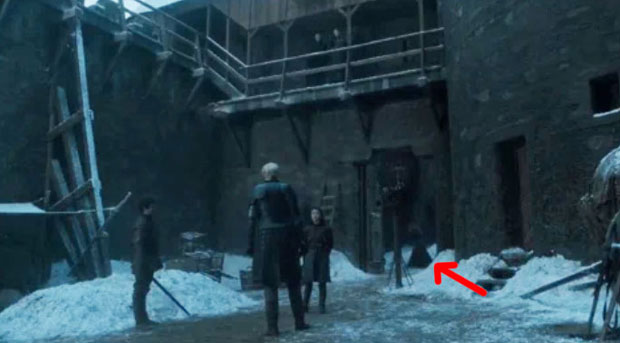 HollywoodLifers, do you think that Catelyn will officially come back as a zombie or ghost? Let us know below!