Rihanna Debuts Aqua Colored Hair & Rocks Mini Shorts In Barbados — Sizzling Pics
Rihanna has made it home for Crop Over Festival and brought along a surprise: a funky new hairdo! RiRi revealed her latest look — aqua colored locks — while joining in the festivities and she looks so good!
Crop Over Festival comes to a head in Barbados on Monday, Aug. 7 with Kadooment Day, and Rihanna, 29, came home to celebrate — and we mean CELEBRATE. The songstress has been chilling in Barbados this weekend and took to Snapchat today, Aug. 6, to show off her booty in some mini shorts and her freshly-dyed aqua-colored strands of hair. Let's just say we were shocked, but totally here for it!
RiRi is known for her stunning dark hair, so choosing to go for this blue-green hue is a little jarring, but still complements our bad gal's shining eyes and caramel skin. And if she was going for a gorgeous color that reminds her of the ocean and home — she nailed it. RiRi is in town with her squad, including her BFF Melissa Forde, and one of the gals joined in a game of Instagram filter fun with the songstress as she showed off her new 'do. You can see their adorable looks and silly voices in the video below. Click here to see Rihanna's sexiest Crop Over Festival looks.
While some fans may be wondering where RiRi's new beau Hassan Jameel is, an insider told HollywoodLife.com EXCLUSIVELY Rihanna simply, "hasn't invited him because she doesn't want the pressure of having to look out for him and entertain him." "She just wants to let her hair down and relax with friends," they added. "Attending the Crop Over festival is extremely important to Rihanna, she's proud of her roots and loves to give back by bringing publicity to her homeland."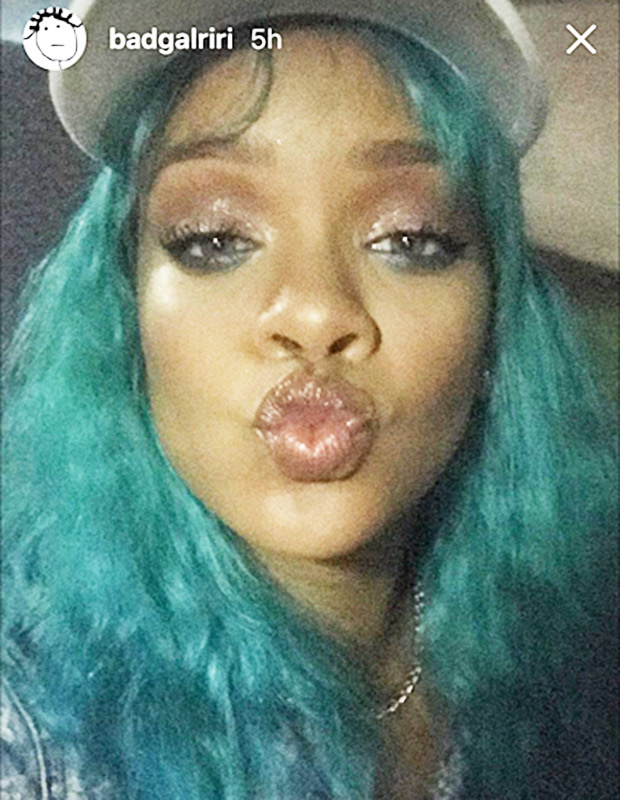 HollywoodLifers, what do you think of Rihanna's stellar new 'do? Was it the perfect look for Crop Over Festival? Let us know below!