Cardi B: Fans Freak Over 'Nicki Minaj's Heir' In Sexy 'Bodak Yellow' Music Video — Watch
Is Cardi B the next Nicki Minaj? Cardi dropped her steamy new music video for 'Bodak Yellow,' and fans are convinced that the 'Anaconda' rapper has a reason to be worried. What do you think? WATCH!
Cardi B, 24, has been killing it lately! The eye candy that is her visual for "Bodack Yellow" was released on June 24, and fans are flipping out in the comments over how she might claim Nicki Minaj's throne any day now! "Nicki is about to get a rude awakening. Cardi is coming for that crown," one fan commented. "Man listen Nicki out here worried about Remy [Ma] when Cardi is on her heels!" another wrote, referencing the ongoing feud between the two rappers. Anyway, watch Cardi's video above to see what's up!
Cardi heads to Dubai in the video, and we're shown stunning footage of the natural landscape. "Say little b*tch, you can't f*ck with me if you wanted to/These expensive, these is red bottoms these is bloody shoes/Hit the store, I can get them both I don't wanna choose/And I'm quick cut a n*gga off so don't get comfortable," she raps on the chorus. Damn! One fan even called Cardi Nicki's "heir," and we can kind of see it after watching this video.
Finally, because this is a rap video, there is also latex and an exotic animal involved (the leopard is pretty cute.) At one point, she rocks a black Cleopatra-style wig, reminding us of one of Nicki's signature looks. Here's a gif for reference: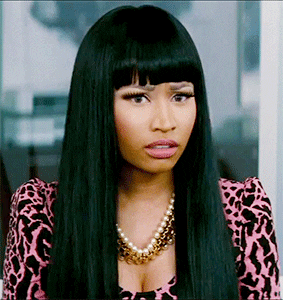 Cardi was also nominated for Best Female Hip-Hop Artist at the BET Awards, as was Nicki, but in a wild twist, it was Remy Ma who took the prize! You can bet she took the opportunity to fire shots at Nicki, and you can catch up on that drama here.
HollywoodLifers, what do you think of Cardi B's new music video? Tell us if you believe she's emulating Nicki here!