Rob Kardashian Reveals Crazy 2-Part Sex Position With Blac Chyna: She's Like 'A Pretzel'
Rob Kardashian and Blac Chyna have their ups and downs, but as Rob revealed in the April 2 episode of 'Keeping Up with the Kardashians,' when things between them are good, the sex is WILD! Who knew Chyna was so acrobatic?
Semi-estranged couple Blac Chyna, 28, and Rob Kardashian, 29, were caught PDAing on April 1, and just one day later, the world learned about what they like in the bedroom. Okay, we did NOT see that coming!
"She was twizzled up into a pretzel and I was, like, way up in the ceiling," Rob told his sisters in the April 2 episode of KUWTK about one particular night with his baby mama. Whoa! "It was the craziest f*cking thing. It was a crazy-ass night. You can ask her about it," he added. Uh, hard pass, but thanks for the offer.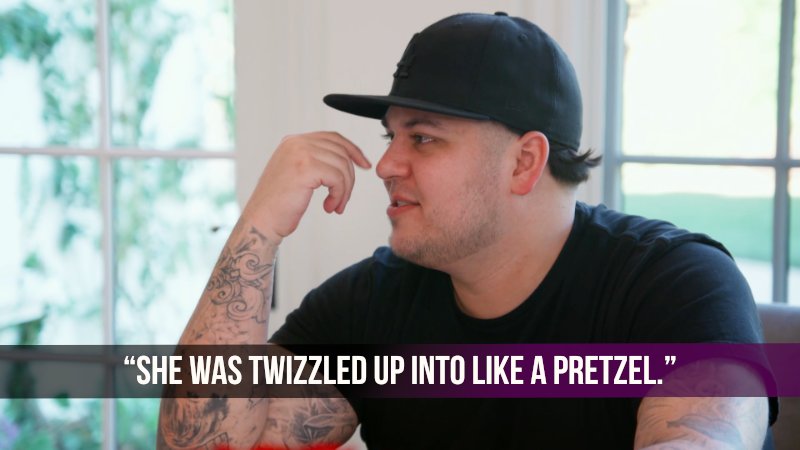 While Rob's admission definitely ventures into the TMI zone, we have to say it warms our hearts to hear him speak fondly of his time with Chyna…even if it's to give steamy details of their most private moments. The couple is on-and-off more than almost any other couple that we know, but we're rooting for them! Furthermore, Rob's good-humored comments were a nice break from all of the drama going down with Kim Kardashian's mission to have a third baby that we saw in the episode.
The good news is that a Rob/Chyan reunion might actually have already happened. The two were spotted looking very cozy together on Chyna's Snapchat as they hung out together…so could the engagement be back on after all?! Hopefully we'll learn more in the April 9 episode, when Chyna will finally give birth to Dream Kardashian!
HollywoodLifers, did you get grossed out hearing about Rob and Chyna's crazy sex positions? Tell us what you thought about last night's episode!