Ellen DeGeneres & Jamie Dornan Give 'Fifty Shades' Sex Toys A New Meaning — Watch
Forget 'Fifty Shades Darker' — 'Fifty Shades Darkest' is where it's at! In a hilarious 'scene' from Ellen DeGeneres' idea for another sequel, she and Jamie Dornan act out an intimate evening that involves some, er, unexpected sex toys. WATCH it here!
Ellen DeGeneres, 59, and Jamie Dornan, 34, make quite the attractive couple, don't you think? WATCH their amazing Fifty Shades Darker spoof from the Jan. 31 episode of The Ellen DeGeneres Show above.
This time, Ellen brings the laughs by dressing up as a sexy Staples worker, complete with fake boobs. "I assume you like a girl in a uniform," she tells Jamie, entering the room in a ridiculous costume. His reply: "The moment I walked into Staples, I just knew I had to have you in my life." Amazing.
"I brought toys," Ellen tells him, getting down to business. She pulls out a staple remover and performs an excellent bit of physical comedy with it, but Jamie is not happy. "I'm not really into that. I don't think anybody is into that," he scoffs. Ha.
Ellen tries again, this time pulling out…a stapler. She ties him to the bed with Scotch tape, and pulls out a pair of scissors."That's a $2,000 tie!" Jamie shouts, but Ellen proceeds to cut it in two. "Now it's half-off!" she jokes. Too good.
It's all very reminiscent of that scene in 30 Rock where Liz Lemon and Criss Chros go on a date to Staples and also use office supplies (highlighters, paper clips) as their foreplay. Clearly, they started a trend!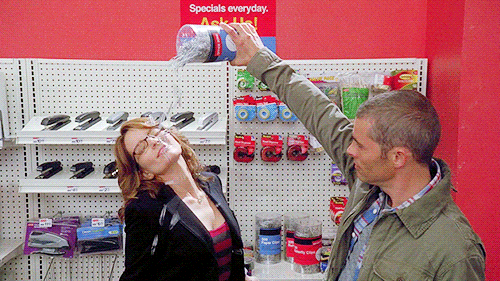 You can catch Fifty Shades Darker in theaters on Feb. 10 — Valentine's date, anyone?
HollywoodLifers, are you going to go see Fifty Shades Darker? Tell us if you're excited for the film!