Hurricane Nicole: Huge 14 Lb. Lobster Caught In Bermuda After Storm — Crazy Pics & Video
This has to be the most insane catch we've ever seen! Thanks to Hurricane Nicole, a massive 14-pound lobster was caught by the Sanctuary Marine Bermuda on Oct. 15, and it's just unbelievable. Take a look at pics and video of this Lobster Of Unusual Size right here!
A fishing charter, Sanctuary Marine Bermuda, made quite the catch following Hurricane Nicole! "Hurricane Nicole blew in some sea monsters," the company wrote on their official Facebook page. "14lb lobster, caught and released!" Wow! It was an accidental catch, as the fishermen had been looking for snapper, but life is full of surprises. You can see more pics of this bad boy here, and watch a video of the catch/release above.
Hurricane Nicole, which was a Category 4 storm, passed over Bermuda on Oct. 13. The type of crustacean that was caught after the storm is known as the California spiny lobster (how about Giant Spiny Lobster?), and they can weigh up to 16 pounds — the record is a 16 lbs., 1 oz. one caught off Catalina island in 1968. This lobster comes pretty close, though!
Sanctuary Marine clarified that the catch was a mistake, writing, "Hopefully people will see the hook in its toe and realise we caught it by accident and only pulled it on land to get the hook out and untangle it from our fishing line before letting it [go]." In response, fans took to the company's Facebook page to commend them for releasing the lobster. "Thank you for being kind people and putting that big old lobster back into the sea," one user commented. We are totally okay with that, too, especially because the lobster can now go find its true love in the sea: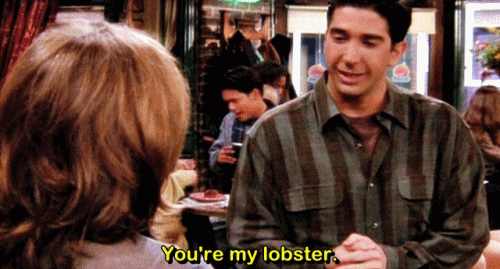 HollywoodLifers, what do you think of this enormous lobster? Let us know if you think it's cool, or freaky!