'Scream Queens' Premiere Eulogies: Saying Goodbye To Those We Lost
Senior Entertainment Editor
As Ryan Murphy warned, each week we will lose (at least) one of our favorites on 'Scream Queens.' So, each week, I'll be writing my goodbyes to those murdered — and I have a feeling this could get creepy.
If you watched the two-hour series premiere of Scream Queens, you know that a murderer is on the loose at Kappa Kappa Tau: the red devil is officially taking over. So, who did we lose week one? Well unfortunately, it wasn't all the work of the red devil directly. Yes, spoilers are ahead.
Please bow your head for a moment of silence to remember the fallen Scream Queens alum:
Sophia
Played by: McKaley Miller
Cause of death: Child birth, we think. Or she was murdered by this b-tch!
Best quote: I didn't even know I was pregnant… I thought it was freshman 15."
Melanie Dorkess
Played by: Brianne Howey
Cause of death: Acid spray tan.
Best quote: "Someone turn me into Jada Pinkett Smith."
Ms. Bean/White Mammy
Played by: Jan Hoag
Cause of death: Chanel burnt her face off in a frier.
Best quote: "I don't know nothin' bout birthin' no babies."
Chanel No. 2
Played by: Ariana Grande
Cause of death: Live-tweeting. JK, she was stabbed multiple times by the devil in her room after wanting to go home.
Best quote: "I'll see you ladies in bio. I have a colonic at 10."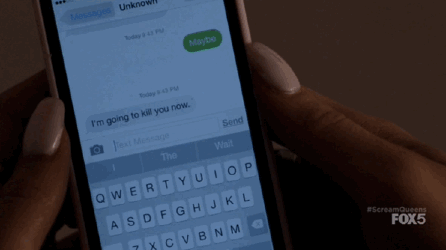 Deaf Taylor Swift
Played by: Whitney Meyer
Cause of death: The red devil drove a lawn mower over her face.
Best quote: Uh, see below.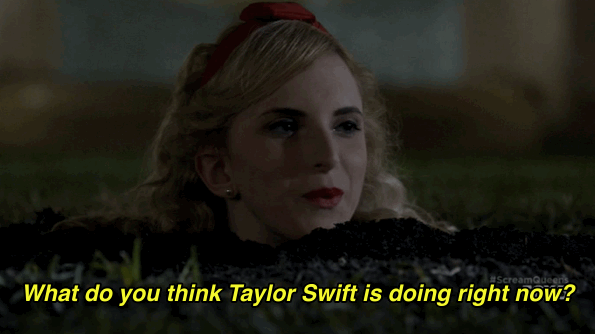 There was also Nick Jonas' character Boone who the entire house believes is dead… but really, he's just working with the red devil on this whole scheme. We don't know how or when we'll see him again, but he will be back! Which death shocked you the most, HollywoodLifers? Which were you most bummed about? Let us know!
— Emily Longeretta
Follow @emilylongeretta