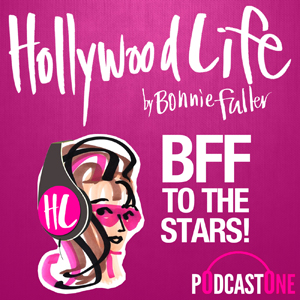 HollywoodLife Podcast:
Now, if you want to dive right in and hear Senior Entertainment Reporter Chloe Melas and I discuss and debate the latest news, plus find out everything about our celebrity guests, then click into the podcast and have fun.
But if you want to know more about our podcast first, read on.
Victoria Justice, 21, was super open to talking to us about her hot love scenes on her gripping new MTV show Eye Candy. "I was a little nervous, but the actor, Daniel Lissing, I was working with is a great guy… and made me feel really comfortable,
and he was like, 'Whatever you're comfortable with or how far you want to take it,'" Victoria told us.
And listen to this — she admitted that she got "in the zone" while filming the scene, and she didn't even freak out at all, even though they had to do MULTIPLE sex scene takes!
She also revealed that her totally hunky boyfriend, Pierson Fode, 24, is completely cool about her mandatory makeout sessions on Eye Candy. Plus, she tells listeners all about their favorite date night.
You also need to hear her emphatically respond to rumors that she bullied Ariana Grande, 21.
We have to say that we respect Victoria so much for straightforwardly denying on our show that she ever, ever bullied Ariana, saying, "I'm not the type of person that would bully anyone!"
You also must tune in to listen to Christina Milian, 33, star of her own new E! reality show, Christina Milian Turned Up.
On the first episode of Turned Up, she bravely shows herself getting her nipple pierced on air, and she was happy to discuss it in our office.
Christina confesses that she got the piercings as "a bet between my mom and I… I had to have her come out of her element and stop doing the same old thing," she explained. "You never know what life has to bring. Be open to it. She got everything pierced!"
Whoa! So Christina got her nipple pierced as a sacrifice to help her mom! Now that's a great daughter.
What Famous Little Girl Has The Biggest Shoe Collection?
Speaking of great daughters, one of the world's most recognized daughters — North West — has a shoe collection bigger than maybe even her mom's!
Reality star and entrepreneur Brittny Gastineau, 32, who is also Kim Kardashian's best friend, revealed to us that North West, 19 months, has the biggest and most awesomely organized closet. And it just so happens to include about one hundred pairs of shoes, all displayed and coordinated by color.
Brittny, who has her own blog, Eye On Glam, tells us lots more about the state of North's wardrobe and the organizational situation of Kim's closet and purse. We also hear details about Kim's wedding of the year!
Plus, listen to Chloe and I dish on the truth about Justin Bieber and Selena Gomez's Mastro's date, Nikki Reed and Ian Somerhalder's engagement surprise — especially to Ian's ex Nina Dobrev — AND the inside info about Kylie Jenner and Tyga's rather surprising living arrangements at his house.
Now HollywoodLifers, listen to our podcast and then email us your celebrity questions and we'll answer them on air!
Can't wait until you listen and comment! Thanks, HollywoodLifers!
— Bonnie Fuller
[hl_twitter_followme username="BonnieFuller" template="bonnie-fuller" text="Follow Bonnie!"]