No one was more surprised by Kristen's confession than Jax's ex-girlfriend Stassi Schroeder, who spent the better part of the second half of the season trying to get to the bottom of Jax and Kristen's affair. Needless to say, the movie Drive — which was supposedly playing on TV when Jax hooked up with Kristen — has been ruined for me forever.

Tom Vs. Jax: Vanderpump Fools
But Kristen's admission wasn't the end of it. No, sir. After accepting the fact that Jax will never feel remorseful for his actions, Tom delivered a nasty little sucker punch, giving us this beautiful image of Jax as fodder for all our future nightmares: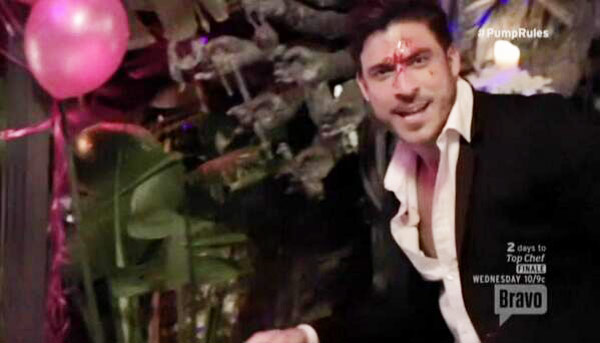 Stassi Quitting The Show?
(Thanks to Brice Sander for the grab!)
And in true Bravo fashion, all of this went down at Scheana Marie's engagement party, which also featured a surprise performance of her new single "Good As Gold." (Side note: Scheana's co-workers give her a lot of crap, both on and off camera, but they were all loving her new song. I think they've finally succumbed to her talents.)
Stassi Quitting 'Vanderpump Rules'?
As Stassi noted in the episode's final moments, the confirmation of Jax and Kristen's affair signaled the end of a major chapter in her own life. She now knows that she basically can't trust anyone in her life, so what's a girl to do? Well, HollywoodLife.com can exclusively confirm that Stassi's solution involves quitting SUR and moving to New York City, leaving her "toxic" life in Los Angeles far behind.
HollywoodLifers, were you stunned by Kristen's confession? And what do you hope to see happen on next week's reunion special? Drop a comment with all your Rules feelings below.
— Andy Swift
Follow @AndySwift
More 'Vanderpump Rules':
'Vanderpump Rules': Stassi Talks Quitting SUR & Moving To NYC
'Vanderpump Rules' Recap: New Feuds Erupt At Scheana's Birthday
'Vanderpump Rules' Star Stassi Schroeder: Season 2 Is 'On Crack'
Click to Subscribe to Get Our Free HollywoodLife Daily Newsletter

to get the hottest celeb news.